Just as indie coders can create hot new apps, teachers and students can develop educational content with widespread appeal. However, teachers and students often face technological barriers to producing and distributing great content. TinyTap, a platform for creating interactive lessons and educational games, solves this problem: TinyTap allows anyone to easily create and share engaging educational materials.
When you open the TinyTap app, you are prompted to either create new lessons and games or to play lessons and games that other users have created. If you choose to create your own content, TinyTap allows you to share that content in their store. "We see TinyTap becoming the biggest marketplace for learning apps: like an app Wikipedia for young learners, a place where they can learn about anything in any language in a fun interactive way – created by other students, families and teachers," says Yogev Shelly, TinyTap's co-founder. "You could use TinyTap to create an app to help only one person or the entire world," he says.
Shelly was inspired to create what would become TinyTap so that his father, who has Alzheimer's, could relive family memories through interactive photobooks. Over time, Shelly and his team morphed this simple app into the TinyTap platform.
Last March, Shelly and his team were selected for the second cohort of co.lab, an educational games accelerator run by NewSchools Venture Fund and Zynga.org. Co.lab Associate Director Cameron White says, "TinyTap is the first app we've seen that unlocks interactive media design for educators and learners of all ages."
To explore TinyTap's versatility, co.lab recently hosted students from San Francisco's Mission High School and taught them how to use TinyTap. The students, many of whom are from immigrant families, broke out into groups of four and were invited to create TinyTap lessons that explore their cultures, the languages they speak at home, and the holidays their families observe.
Shelly paid special attention to group dynamics as the students used TinyTap. There was one group that was slacking off instead of working on their app. As other groups started sharing their presentations, the distracted group stepped up their game. They worked quickly and put together a serious presentation at the last minute. By the end, Shelly said, "They sounded like they were presenting at TechCrunch Disrupt."
After watching the students present, White said, "TinyTap can empower teachers to create opportunities for students to contribute their personal experiences and voices, which too often are marginalized in educational contexts."
Returning to the co.lab offices from a meeting with a prominent tech investor, Shelly shared his excitement about TinyTap's future. "Now, we just need to prove to people that our content is as good as textbooks," he said. Shelly founded the company less than two years ago. With dozens of new lessons and games shared each day, Shelly's vision of a TinyTap Wikipedia is fast becoming a reality.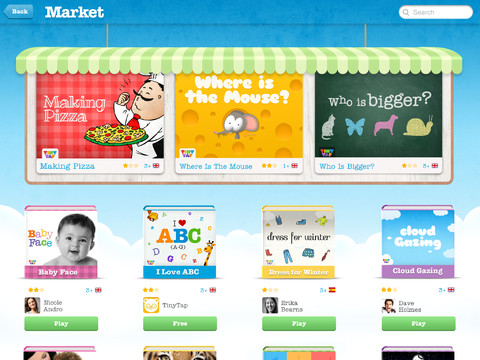 If you are interested in using TinyTap to create your own Tiny apps, download TinyTap from the App Store!